Chicama / Peru – WE'LL COME AGAIN
Javier Larco
April 4 - 11, 2020
Due to the great success of our Chicama camps so far and the encouraging feedback of our clients we will come again in 2020!!!!!
Join Safari Surf Adventures to our spring 2020 Chicama / Peru coaching trip.
This surf trip to Peru will take you to Chicama, the longest surfeable left point break on Earth, where you will enjoy 8 days of surfing this leg quaking left, while being pampered at the Chicama Boutique Hotel & Spa.
Perfect and extremely long waves plus high end services will be the highlights of this one in a lifetime surfing adventure.
Our goal is to accelerate your learning curve across the spectrum of the surf lifestyle to become a confident and skillful Surfer. This in combination with complimentary Surf Stretching, Surf Fitness and breathing techniques will offer you unrivaled progression and improvement. …and – LOADS of film footage of yourself….
What is included:
Transportation to and from Trujillo Airport
(7) Nights' accommodation at our host lodging facility Chicama Boutique Hotel on the beach in front of the world famous supposably longest left in the world; rooms are single or double. For single room please ask.
A rich breakfast buffet and a variation of delicious a la carte lunch and dinner menus
Water, tea/coffee are complimentary; other non-alcoholic and alcoholic beverages available at additional costs
Safari Surf Adventures coaching program; in water surf coaching, surf sessions recorded and state of the art "recorded" analysis presented to guests with a "final analysis" compiled at the camps end
Chicama's unique zodiac tow in service to safe your power due to the long paddle back (remember – longest left…)
Access to all recorded video analysis and raw video footage for guest to download
All land and sea transportation to surf spots and events in and around Chicama
Safari Surf Adventures service and support at the location.
Exclusive member's access to Safari Surf Adventure's online learning portal (once established).
SSA T-Shirt
What is not included:
Alcoholic beverages.
Insurance – Safari Surf is a licensed agent with Travel Guard and will provide each guest a free quote (we recommend everyone to carry an insurance to cover health / injuries, damage, travel). You will need to sign a liability waiver with SSA.
Teacher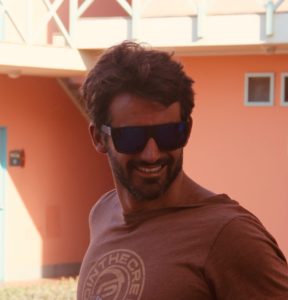 Javier Larco
My name is Javier Larco and I am born and raised in Huanchaco / Trujillo / Peru. The birthplace of (Peruvian – or any?) Surfing. I teach surfing since more than 16 years – for example as a coach of the junior national team from 2016 – 2018. Always I update my training curriculum and improve my teaching level in order of being able to transmit my own surfing experiences to my clients. Being a Surf Coach is about being patient and to be understood, be prepared and able to teach with the best training techniques and safety in the…
Learn more about Javier Larco