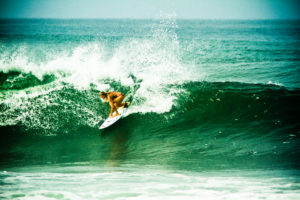 Serena is a professional surfer, surf coach, charity worker and mother based in Queensland, Australia.  Serena enjoyed a 14-year competitive surf career with the World Surf League where she picked up the nickname 'sauce' from putting tomato sauce on almost everything she ate! Among her notable accomplishments was winning the Billabong Pro Australia title and achieving a temporary #1 overall ranking in 2001. Serena has finished with #2 ranking twice on the World Championship Tour.  Serena has watched the sport grow exponentially as a key part of the evolution of women's surfing and will remain an icon of the sport indefinitely.
Besides Serena's passion for surfing she enjoys fitness, snowboarding, coaching and family time, being one of 6 sisters!  Serena's curious nature has fostered a great love of traveling to new places and experiencing new things, particularly high energy locations where she can learn more about herself and evolve on her spiritual journey.
Philosophically, Serena prefers not to conform to the socially conditioned rollercoaster of modern life, nor buy into society's fear based perceptions. As an individual, she strives to do what makes her happy – without fear or guilt, while embracing love and respect for herself and others. Serena's favourite animals are rabbits –  which also happen to be her Chinese sign.